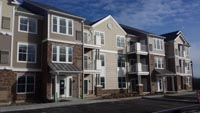 Gateway Development/East Lyme, LLC, a joint venture between affiliates of KGI Properties of Providence, RI and The Simon Konover Company (TSKC) of West Hartford, Connecticut, announces the opening of The Sound Luxury Apartments at Gateway Commons.
The first four buildings, featuring 112 residential units are complete and welcomed the first residents on Friday May 1, 2015. The luxury residential community features studios, one, two and three bedroom apartment homes built amidst a 150-acre wooded sanctuary.
Construction continues on the remaining six buildings and clubhouse. When complete, the residential community will feature 280 luxury apartments in 10 buildings, and a private clubhouse with fitness center, home theater/media room, pool and other amenities. Konover Residential Corporation, a division of TSKC, will provide property management and leasing services through an onsite management office.
"The Sound at Gateway Commons is designed to offer the highest quality amenities in an exceptional location," said James Wakim, President and Chief Operating Officer of The Simon Konover Company. "We are extremely excited to welcome our first residents to their new home at The Sound at Gateway Commons."
Gateway Commons has been a focus of the Simon Konover/KGI team for nearly a decade. The Gateway Planned Development District (GPDD), as approved in 2008, envisioned a mix of residential and commercial uses on the 200 acre property. The Town of East Lyme approved the site plan for the first phase of residential development in 2013. Planning continues for the retail phase of the development, which will be located adjacent to exit 74 off Interstate 95.
"The opening of our first apartment homes signifies an important milestone in this long-term project," said Richard Bornstein, Chief Executive Officer of The Koffler Group, the parent company of KGI. "We look forward to continued collaboration with local leaders and the East Lyme community as we bring the Gateway Commons vision to reality."
---