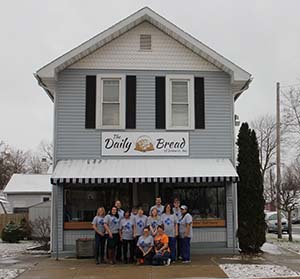 Ninety-six (96) employees of The Simon Konover Company (TSKC) logged in more than 300 volunteer service hours during the two week period of January 16-27, 2017 as part of The Simon Konover Company Day of Giving Back program. More than one-quarter of TSKC's employees from across its operating regions volunteered at eight different community pantries and soup kitchens in four states.
"As a team we wanted to have a far reaching impact while serving the communities in which we operate", said Jennifer McIntyre, TSKC Property Accountant and co-chair of The Simon Konover Company Day of Giving Back committee. "Our research showed that soup kitchen volunteers decreases after the holiday season. We'd hoped to do the most good by helping to staff food pantries throughout our region during the winter season."
TSKC employees prepared and served meals, sorted and boxed packaged meals at four locations in Connecticut, including the House of Bread in Hartford, Friendship Service Center in New Britain, Kitchen on Main in Manchester, and The Shoreline Soup Kitchen in East Lyme. TSKC colleagues in New England and the Midwest also volunteered at the Hyannis Pantry & Soup Kitchen in Hyannis, MA; The Daily Bread in Adrian, MI; and Hope Center in Lexington, KY. TSKC volunteers served a total of 1,760 meals in the community.
In addition, TSKC employees conducted a food drive to benefit the Montville, Connecticut, Food Bank and collected hygiene items and prepared healthcare packages for a local school.
"Simon Konover set a high bar for philanthropy", said James Wakim, President and Chief Operating Officer of The Simon Konover Company. "I am extremely proud that so many associates of The Simon Konover Company recognize the importance of giving back to our communities and are committed to furthering the Simon Konover legacy."
The Simon Konover Company Day of Giving Back was started in 2016 in honor of company founder Simon Konover, a Holocaust survivor and regarded philanthropist, who passed away in 2015. In October 2016, The Simon Konover Company completed its inaugural Day of Giving Back project, a two-day Playground Community Build at the Industria Commons housing community in New Britain, Connecticut.
---