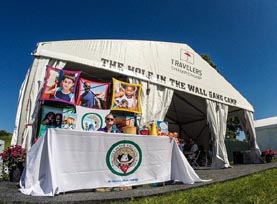 Team Simon Konover is a lead sponsor of the annual Camp Challenge Ride and Bandit 5K series, a charity cycling and running event administered by the Hole in the Wall Gang Camp in Ashford, CT.
Team Simon Konover supports the mission of The Hole in the Wall Gang Camp by building a team of employees and business associates working together to raise funds and awareness.
Since 2009, Team Simon Konover has raised over $500,000 through the Camp Challenge event. In addition, team members play a critical role in event logistics and execution.
Founded in 1988 by Paul Newman, The Hole in the Wall Gang Camp is a community dedicated to providing "a different kind of healing" to children and their families coping with cancer, sickle cell anemia and other serious illnesses. The Simon Konover Company relationship with the Camp began over 25 years ago when Simon Konover constructed the first buildings.
---