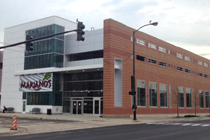 Simon Konover Development Corporation (SKDC), along with its partners, Outlook Development Group (Outlook) of Franklin, Wisconsin and Bucksbaum Retail Properties (BRP) of Chicago, Illinois, announced the sale of Mariano's Fresh Market grocery store, located in Chicago's South Loop.
The property was purchased on January 15, 2014 for $40.5M by a New York City based private investor in a 1031 exchange. Jones Lang LaSalle's (JLL) Capital Markets represented the owners in the transaction.
Located at the corner of South Clark Street and 16th Street, the property features a one story store, along with a two level parking deck on the store's roof. A partnership among SKDC, Outlook and BRP assembled and acquired the 3-acre site from the City of Chicago in September 2012. The newly constructed Mariano's Fresh Market held its grand opening in October 2013.
"The sale of this property signifies the successful completion of years of hard work on the part of The Simon Konover Company and its partners," according to James Wakim, President and Chief Operating Officer of The Simon Konover Company. "We continue to identify new opportunities and look forward to furthering our investment focus in the Midwest."
SKDC and Outlook signed a joint venture agreement in 2011 to focus on the acquisition and development of projects in the Midwest, with a principal focus on retail and medical office opportunities. Since its inception, the joint venture has purchased properties in Brookfield, Ft. Atkinson, Madison, Milwaukee, and Hartford, Wisconsin. This is the first project that BRP has participated in with the venture.
---