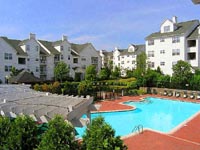 The Simon Konover Company (TSKC) and its partner, Outlook Development Group (ODG) of Franklin, Wisconsin, announced that it has structured the acquisition of a 268 unit multifamily apartment community in Danbury, Connecticut.
A partnership including TSKC, ODG, and a subsidiary of The Goldman Sachs Group, Inc. acquired the eleven building community on February 10, 2014 for $53.3 million dollars.
"This acquisition represents the seventh transaction that TSKC and Outlook have partnered together and the first joint investment in Connecticut," said James Wakim, President and Chief Operating Officer of The Simon Konover Company.
The multifamily community will be rebranded as Ashwood Valley Apartments. Built in 1998, the garden-style apartment community consists of eleven detached three-story buildings located on 17.5 acres. A mix of one, two and three-bedroom fully appointed apartments range in size from 769 to 1,494 square feet. Community amenities include a clubhouse, heated outdoor swimming pool, fitness center, indoor basketball court, private parking garages, landscaped playground and barbecue and picnic areas. The community will be managed by Konover Residential Corporation.
"The multifamily market has long been a fundamental focus of our development and investment efforts," said Mr. Wakim "We are very pleased with this acquisition given the quality of the community and its vibrant Fairfield County location."
---