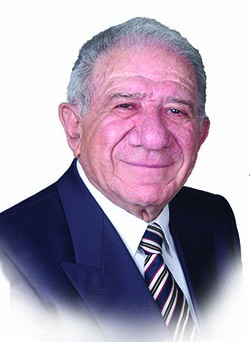 Pioneer Shopping Center Magnate and Philanthropist Simon Konover passed away on October 20 in Delray Beach, Florida, at the age of 93.
Konover was the founder and patriarch of The Simon Konover Company and Konover South, a diversified, fully integrated real estate empire, based in West Hartford, Connecticut and Deerfield Beach, Florida. The Konover organization achieved national stature, based upon strong ethics and innovation. This family-owned business now spans three generations. The companies, established in 1957, have developed, constructed, owned and operated properties throughout the Midwest and Eastern U.S., stretching from Maine to Florida. The company's extensive portfolio has included shopping centers, hotels, residential communities, office buildings, industrial buildings, mixed use and specialty properties. Over the course of its history the Konover companies have owned and operated 15 million square feet of retail, 20,000 apartment units, 2 million square feet of office space, 4,000 hotel rooms and more.
Konover is also recognized as an exceptional philanthropist, as a pillar of both the national and Hartford Jewish communities, and as one of Connecticut's outstanding civic leaders. His deeds, accomplishments and commitment are legendary. His life was devoted to community, enormous generosity and kind deeds. A complete list of organizations that he was involved in, and honors received, could fill pages and are too numerous to recount here.
A sampling:
Konover is a Junior Achievement Laureate and member of its Business Hall of Fame. He was recognized as Hotelier of the Year by the Connecticut Lodging and Restaurant Associations.
Konover was a trustee of the Doris and Simon Konover Family Foundation. He donated construction management services to Paul Newman's Hole in the Wall Gang Camp for seriously ill children in Ashford, Connecticut, and also initiated the creation of an affiliated camp in Israel.
Konover built campus housing at the University of Hartford, and along with his wife Doris, was instrumental in creating the Konover Campus Center there. They are founding supporters of the Center for Judaic Studies and Contemporary Jewish Life at the University of Connecticut, which among its numerous activities expanded its study of human rights. In addition to endowing that Center's first faculty chair, their other major donations to UCONN include the University Libraries, the Thomas J. Dodd Center, the Kosher Dining Center and UCONN Health Center.
Konover received three honorary doctoral degrees: from UCONN, University of Hartford and Gratz College.
Recognition of Konover's community contributions are countless and include the Prime Minister's New Life Award from the National Committee for Israel Bonds. He received the Distinguished Service Award to the Cause of Good Relations from the National Conference for Community and Justice. He is a founder of the United States Holocaust Memorial Museum in Washington, D.C., and served as President and Campaign Chairman for the Jewish Federation of Greater Hartford, where he was also honored as a Life Director. He received the JFACT Community Builder Award. He is a founding member of Beth El Temple in West Hartford and a major donor to the new Hebrew High School of New England in West Hartford and Hebrew University in Israel.
Konover was born in the small shtetl of Makow Mazowieki in Poland, one of eight children. At age 16 at the start of World War II in 1939, he was interned in a Nazi labor farm, where he survived unimaginable indignities. He narrowly escaped to Russia, where he was drafted into its army. He endured many hardships as a truck driver delivering supplies to the front line during the Battle of Stalingrad. He was imprisoned for one year in a Siberian hard labor camp until the war's end in 1945. Konover often stated that he "lived minute to minute, not hour to hour." He survived the war with his brother Harold, but lost his parents, five siblings, brothers-in-law, nieces, nephews, extended family members, friends and his entire way of life in the Holocaust. In 1949 he immigrated to the United States, after first living as a refugee in France and Cuba.
Konover fulfilled his desire to live a good, full and meaningful life. He chased and ultimately found his version of the American Dream.
Konover leaves his wife, Doris, of 66 years. He is also survived by daughter and son-in-law Jane and Robert Coppa, his son and daughter-in-law Michael and Vicki Konover, and his son Steven Konover. He also leaves his four grandchildren Karen Coppa (with her husband Eric Kleinman), David Coppa, Kimberle Konover and Gregory Konover (with his wife Elise Konover), as well as three great-grandchildren. Konover's substantial business interests and legacy live on through The Simon Konover Company and Konover South, under the respective leadership of his daughter, Jane Coppa, CEO, and his grandson, David Coppa, CEO.
---