Joseph Catalano, regional manager for Konover Residential Corporation (KRC), was named Regional Manager of the Year by Connecticut Apartment Association (CTAA). The award was presented at the CTAA Nutmeg Awards and Holiday Dinner held December 5, 2018 at Bill Miller's Castle in Branford, Connecticut. CTAA is the governing association for owners and management companies in the apartment industry and falls under the National Apartment Association.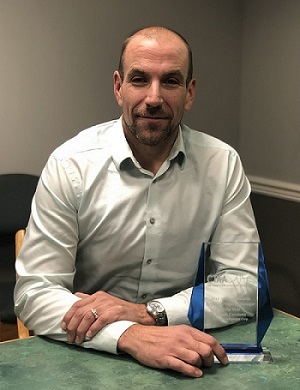 Joseph Catalano
Mr. Catalano is responsible for ten KRC properties totaling approximately 1,800 units located in Manchester, Willimantic, and New London, Connecticut, as well as Carol Stream, Illinois and South Bend, Indiana. He has nearly 25 years of experience in facility maintenance, property leasing, and property management. Mr. Catalano received his Certified Apartment Manager designation from the National Apartment Association, and has earned the EPA Universal Certification under Section 608 of the Clean Air Act. He was recognized for his leadership, professionalism, and fiscal skills, as well as overall management of his 10 properties and staff.
This is the second consecutive year that a KRC associate was named Regional Manager of the Year by CTAA.
"We are extremely pleased that Joe Catalano was honored by his peers for all that he has accomplished as Regional Manager for Konover Residential Corporation," said Greg Konover, Vice President of Konover Residential Corporation. "This award is a testament to the quality and professionalism of the Konover team."
The annual Nutmeg Awards recognize CTAA members for their initiatives, skills, dedication and service to their residents, properties and the multi-family industry as a whole. Award recipients are selected from a pool of nominees by independent member judges from apartment associations in different states.
---