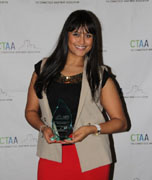 Chasity Villanueva, Property Manager for Konover Residential Corporation, was selected as Property Manager of the Year by The Connecticut Apartment Association. The award was presented at the Association's Nutmeg Awards program held on December 5, 2013.
Ms. Villanueva is the property manager for Soromundi Commons, a YWCA supportive housing community located in Hartford, Connecticut. The entire team at Soromundi Commons supported Chasity's nomination, recognizing her dynamic and empathetic management style and effective leadership skills.
The Simon Konover Company congratulates Chasity on this exceptional honor.
---