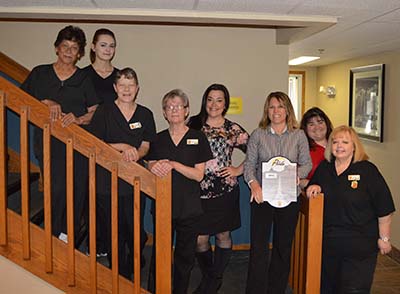 Konover Hotel's Super 8 Adrian, Michigan, was named a Pride of Super 8 by Wyndham Hotel Group. This recognition is presented annually to the top performing hotels within the brand worldwide.
Hotels recognized for The Pride of Super 8 were announced April 25, 2016 and were selected based upon quality, service, customer satisfaction and other performance metrics. The Super 8 Adrian was one of only 128 out of 2,392 hotels within the brand to earn this recognition.
"We are extremely pleased that the hard work and professionalism of our exceptional staff has been rewarded through this recognition," said Peter H. Mason, CHA, Executive Vice President of Konover Hotel Corporation. "The Super 8 Adrian is the pride of Konover Hotel Corporation, and we are honored to be recognized as an exceptional hotel."
The Super 8 Adrian team is led by General Manager, Jennifer Six; Front Desk Administrator, Leandra Diedrich; Housekeeping Administrator; Sara Frost; and Maintenance, Juice Majewski, and supported by a strong staff of dedicated employees.
The Super 8 Adrian is located 1091 U.S. Hwy 223 and features comfortable rooms, a business center, high speed internet access and the complimentary SuperStart breakfast. The Super 8 Adrian is owned by an affiliate of The Simon Konover Company and managed by Konover Hotel Corporation.
---