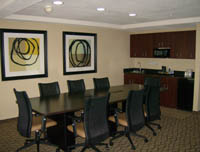 The Holiday Inn Express & Suites (HIES) Roseville has been selected by InterContinental Hotels Group (IHG) as a 2013 Renovation Award winner.
Earlier this year, the HIES Roseville completed a major modernization and renovation program, including a new lobby and breakfast area, upgrades to all guest rooms and improvements to the meeting room, exercise room and pool.
Operating nine hotel brands, IHG is one of the world's leading hotel companies. The Renovation Award recognizes major modernization projects which have significantly improved hotel properties. The award will be presented to representatives of The Simon Konover Company at the 2013 IHG Americas Investors & Leadership Conference on October 28, 2013 in Las Vegas, Nevada.
"This award recognizes the significant investment made by ownership as well as the talent and focus of our management company," said James Wakim, President and Chief Operating Officer of The Simon Konover Company. "We are delighted to be recognized by IHG."
Affiliates of The Simon Konover Company acquired the hotel in the fall of 2011. Cumulatively the privately held company has invested millions to acquire and renovate the building and grounds to create a superior experience for hotel guests. The Roseville hotel is one of five hotels in Michigan owned and operated by affiliates of The Simon Konover Company.
"The physical improvements to the hotel, combined with the exceptional management team now in place, create a superior guest experience worthy of recognition," said Peter H. Mason, CHA, Executive Vice President of Konover Hotel Corporation.
The Holiday Inn Express & Suites Roseville is managed by Konover Hotel Corporation, a division of The Simon Konover Company. The hotel features king and queen-size bed guest rooms and spacious suites, indoor pool, fitness room, business center, and a 600 square foot meeting room. Free high-speed internet service and a complimentary, hot Express Start breakfast bar are available to all guests. The HIES Roseville offers corporate programs, group discounts and wedding packages.
---