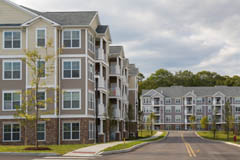 Konover Residential Corporation held a ribbon cutting ceremony and reception to celebrate the grand opening of The Sound Luxury Apartments at Gateway Commons in East Lyme, Connecticut on September 24, 2015.
State Senator Paul Formica and East Lyme First Selectman Mark Nickerson joined The Simon Konover Company and KGI Properties of Providence RI to mark the official opening of the new residential community.
Gateway Development/East Lyme, LLC, a joint venture between affiliates of KGI Properties of Providence RI and The Simon Konover Company of West Hartford, Connecticut, began construction of The Sound in 2014. The residential community features 280 luxury apartments in ten buildings, along with a private clubhouse with heated outdoor pool.
"This ribbon cutting ceremony celebrates the vision and hard work of a broad group of people," stated Scott Lynch, Vice President and Chief Financial Operating Officer of The Simon Konover Company. "We are grateful to the Town of East Lyme, their elected leaders and town staff for their support and assistance in bringing this terrific community to a reality."
Gateway Commons has been a focus of the Simon Konover/KGI team for nearly a decade. The Gateway Planned Development District (GPDD), as approved in 2008, envisioned a mix of residential and commercial uses on the 200 acre property. The town of East Lyme approved the site plan for the first phase of residential development in 2013.
"We are privileged to welcome over 200 new families to The Sound and to the town of East Lyme," said Marie Mazzotta, President of Konover Residential Corporation. Konover Residential Corporation, a division of The Simon Konover Company, is the property manager for The Sound.
Planning continues for the retail phase of the development, which will be located adjacent to exit 74 off Interstate 95.
---