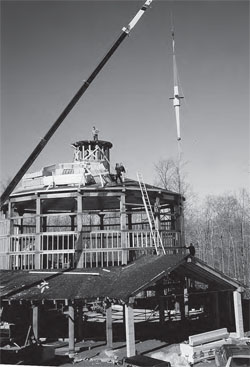 The year was 1987. Paul Newman had a radical idea. Build a camp for seriously ill children where they could just be kids for a while. Once that great idea took root, things seemed to fall into place like clockwork. The land was purchased, the permits obtained, and except for a few finishing touches, the Camp was constructed in eight months flat. "You can't get some building permits" that quickly Paul Newman reportedly crowed to a Life Magazine reporter, "and we built the whole place in that time."
Like Atlantis rising from the waves, Camp took shape under the direction of Simon Konover, founder of The Simon Konover Company, hired to construct the 24 original buildings (and all subsequent buildings, which were built by a Konover entity) including the signature Shaker barn dining hall and fifteen cabins. The task was heroically completed in record time by his young construction manager, 26-year-old Michael Kolakowski.* Twenty years later, those buildings have stood the test of time. Thousands of happy campers have danced, laughed, slept and been fed and cared for in them. That the creation of Camp was a labor of love can never be doubted.
Today, Jane Coppa of The Simon Konover Company continues the tradition of love and commitment to Camp begun by her father Simon Konover, longtime friend and business partner of Paul Newman. Jane has been involved with Camp since its inception – for years as a member of the Board of Directors and now as a member of the Council of Advisors. From the moment she learned of the Camp's mission, Jane began working to share news and advocate on Camp's behalf with other business leaders. She has been a catalyst in engaging her community in support of the mission of serving children with serious illnesses and conditions, as well as a yearly sponsor of the Annual Fandango Benefit Gala, the Camp's signature fall fundraising event. Jane's cousin, Lisa Barall Matt, also supports the Camp each year through a West Hartford, Connecticut fundraiser.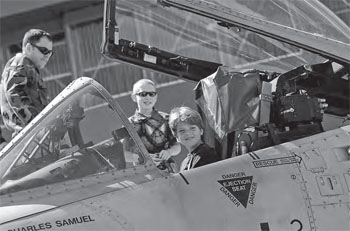 With Jane's help, Bradley Space & Aviation Day was established in 1997, in part through The Simon Konover Company's part ownership of the Bradley Sheraton
Hotel located at Bradley International Airport. Hosted by Bradley Family Day, Inc., Bradley Space and Aviation Day celebrates community and Connecticut's rich
aviation tradition, offering fun and discovery for families and aviation enthusiasts each July – all while generously supporting The Hole in the Wall Gang Camp. Bradley Space & Aviation Day serves up numerous high-energy attractions, including the exhibit of military aircraft flown in for public access at the Connecticut Air National Guard Base and simultaneous events at the Connecticut Fire Academy and New England Air Museum, attracting more than 5,000 visitors. This year's Bradley Space & Aviation Day will take place Saturday July 18 at Bradley International Airport. For more information, see www.spaceandaviationday.org.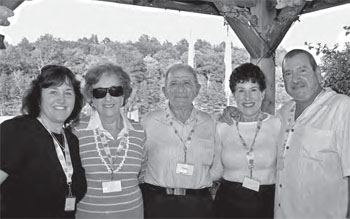 Through this and additional successful community gatherings and the leadership of Bradley Family Day, Inc.'s independent board of directors, many new corporate friendships have been forged with enormous benefits for the seriously ill children served by Camp. Those corporate alliances include the CVS/pharmacy Charitable
renovated dock – a special item purchased at our fundraising Gala, which the family attends each year. Pictured from left to right areTrust, Pratt & Whitney Military Engine Division – the title sponsor of Space & Aviation Day and the Stop & Shop Supermarket Company. Stop & Shop's relationship with the Camp also came about through a personal friend of Jane and her husband Robert. Rhoda Weiner of Delray Beach, Florida is a five-time summer counselor volunteer at the Camp, and an advocate and zealous cheerleader for the mission of Camp. Faith Weiner, Rhoda's daughter and Director of Public Affairs at Stop &
Shop, brought the work of Camp to the attention of Stop & Shop leaders who became committed advocates themselves. Over the past five years, Stop & Shop has generously underwritten numerous fundraising events on behalf of Camp.
This year, The Simon Konover Company will be the Title Sponsor of the AngelRide Camp Challenge** – Connecticut's premier fall bike ride in support of Camp. The Hole in the Wall Gang Camp salutes The Simon Konover Company and the family behind it for their dedication, spirit and commitment to helping thousands of seriously ill children.
** For more information about the AngelRide Camp Challenge on September 27, 2009, visit teamholeinthewall.org
---