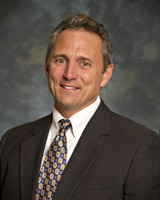 The University of Connecticut Center for Real Estate has selected Bradford Wainman for the Alumni of the Year Award. Mr. Wainman is Capital Markets Director for The Simon Konover Company and Senior Vice President of Simon Konover Development Corporation.
According to the University of Connecticut School of Business, the Center for Real Estate's award "honors University of Connecticut alumni who have provided distinguished service to the UConn Real Estate Program."
Mr. Wainman will be recognized at the 12th Annual Real Estate Center Awards Banquet on Thursday, May 1, 2014 at the University of Connecticut.
Mr. Wainman has worked with the UConn Center for Real Estate to provide undergraduate students learning experiences and opportunities within the real estate industry. Last year, Mr. Wainman and The Simon Konover Company spearheaded a project with John L. Glascock, Director of the UConn Center for Real Estate, wherein senior level undergraduates evaluated real estate expansion and redevelopment opportunities at Marcus Plaza, a community shopping center located in Norwich, Connecticut. The property is owned by Norwich Realty Associates, LCC, a Simon Konover-related entity.
Mr. Wainman joined The Simon Konover Company in 2011. He has over 25 years of experience in commercial real estate and asset management. Prior to joining The Simon Konover Company, Mr. Wainman was Partner-Managing Director with Invictus Consulting Group, LLC. Prior to that position, Mr. Wainman held senior finance positions with People's United Bank and Shawmut Bank Connecticut, N.A. Mr. Wainman graduated from the University of Connecticut in 1985 and completed his MBA in 1995.
---